Welcome to Thailand Hotels Reservation
Get Here Guaranteed LOW rate
Welcome to our Hotel Network over 900 Local Hotels.
Your non stop hotel reservation guide for Hotels in Thailand. Search Thailand based suppliers for the best Room Rate available. Often GDS (Global Distribution System) suppliers have different room rates, due to the fact that they individually buy blocks of rooms from hotel chains.
This to get & let you informed about all known Discounted deals in Thailand.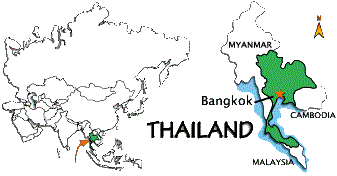 With over six million tourists flying into the country each year, Thailand has become Asia's primary holiday destination and is a useful and popular first stop on any overland journey through Southeast Asia. The influx of tourist cash has played a significant part in the country's recent development, yet Thailand's cultural integrity remains largely undamaged. In this country of around 68 million people, over ninety percent are practicing Theravada Buddhists, and King Bhumibol is a revered figure across his nation. Tiered temple rooftops and saffron-robed monks dominate every vista, and, though some cities and beach resorts are characterized by high-rises and neon lights, the typical Thai community is the traditional farming village: ninety percent of Thais still earn their living from the land.
Most journeys start in Bangkok. Thailand's huge, noisy, polluted capital can be an overwhelming introduction to Southeast Asia, but there are traveler-oriented guesthouses aplenty here, and heaps of spectacular temples to visit. It's also the best place for arranging onward travel and visas for neighboring countries. A popular side-trip from the city takes in the raft houses of Kanchanaburi, the infamous site of the Bridge over the River Kwai. After Bangkok, most travelers head north, sometimes via the ancient capitals of Ayutthaya and Sukhothai , to the enjoyably laid-back city of Chiang Mai, where they organize treks to nearby hill tribe villages. There's tranquil countryside in bucket loads up in the northern highlands around Mae Hong Son and along the Mekong River in Thailand's northeast (Isaan), where you can stay in village guesthouses and hop across the border into Laos. The northeast is the least visited area of Thailand, but holds two fine ancient Khmer ruins Phimai and Phanom Rung near Buriram, and the country's most popular national park, Khao Yai.
After trekking and rural relaxation, most visitors want to head for the beach and Thailand's eastern and southern coasts are lined with gorgeous white-sand shores, aquamarine seas and kaleidoscopic reefs. The most popular of these are the east coast backpackers' resorts of Koh Samet and Koh Chang, the Gulf Coast islands of Koh Samui, Koh Pha Ngan and Koh Tao, and the Andaman coast idylls of Laem Phra Nang, Koh Phi Phi and Koh Lanta.
The southern island of Phuket and the east coast resort of Pattaya are more expensive, package-tour oriented spots.